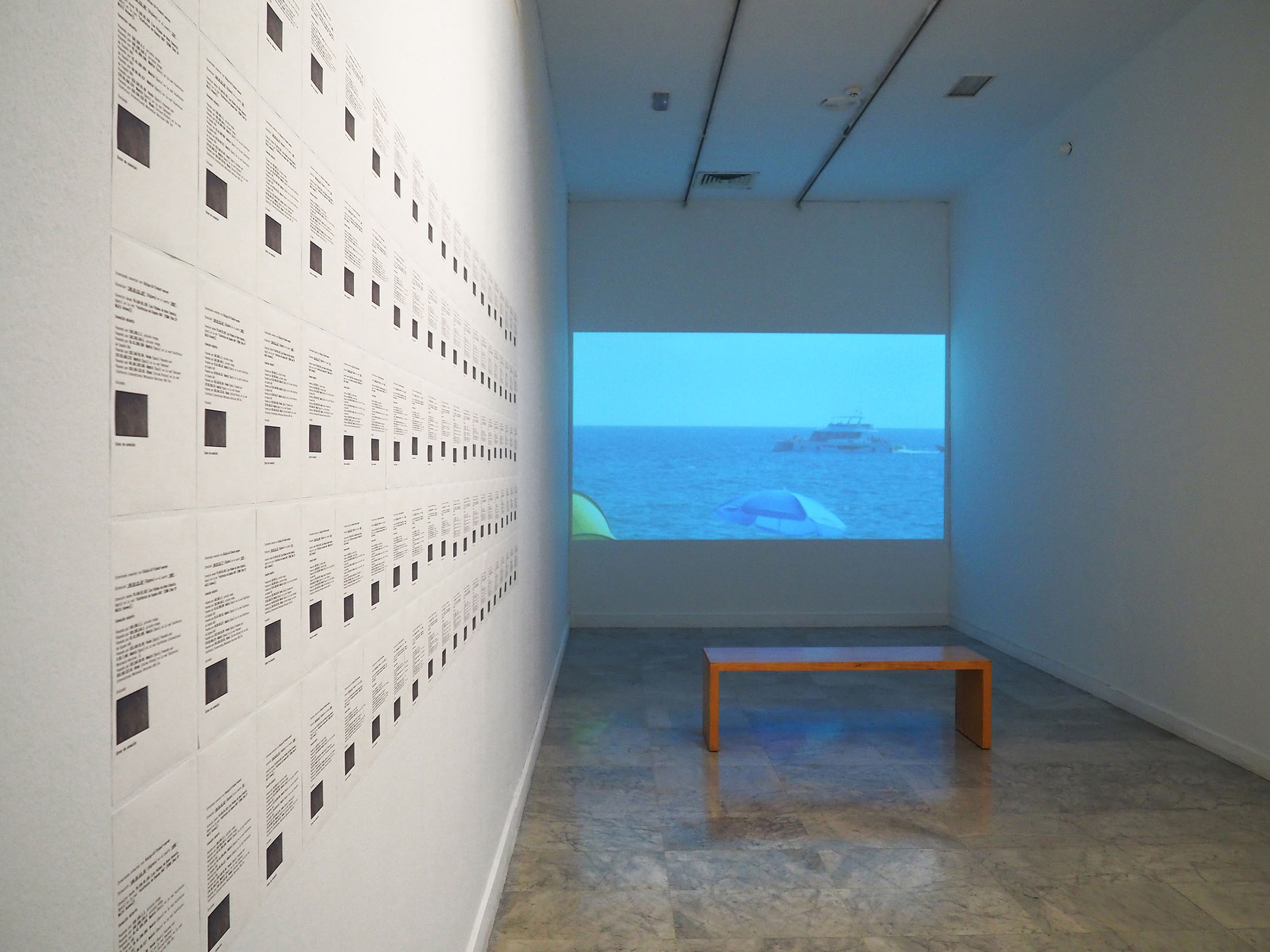 MAPA DE CIRCUNSTANCIAS
2019

Acción-documentación (105 impresiones sobre papel de archivo) y 2 vídeos monocanal
Fotogramas del film Sans Soleil (Chris Marker, 1983) parten virtualmente desde Las Palmas (Islas Canarias) hacia una red que conecta con Tinduf (Argelia), zona de campos de refugiados saharauis. Las imágenes en forma de datos nunca llegan a su destino, pero se muestran sus recorridos antes de fallar la conexión. Introduciendo un error en la maquetación, la pieza revisa "Principios de trazabilidad" desde la proximidad física y las geografías digitales entre Canarias y Sáhara Occidental. Estos datos salen desde la ciudad en cuyo puerto se ha descargado ilegalmente arena de territorio saharaui, empleándola, entre otros, para remodelar la playa de Tauro, al sur de la isla. En el vídeo, la arena es señalada justamente por mantenerse fuera de campo, recogiendo momentos de ocio en una playa que podría ser cualquiera, pero que no puede dejar de ser esa playa. Estos fragmentos visuales del descanso contrastan con las imágenes de un proceso de mecanizado editadas sin inicio ni final.


Action-documentation (105 inkjet prints on archive paper) and 2 single-channel vídeos
Stills from Chris Marker's Sans Soleil (1983) are digitally sent from Las Palmas (Canary Islands) towards a network that connects with Tindouf (Algeria), an area of Saharawi refugee camps. The images in the form of data never reach their destination, but their paths are shown until the connection fails. Introducing an error in the layout, the piece retakes "Principles of traceability" from the physical proximity and virtual geographies between the Canary Islands and Western Sahara. This data departs from the city in whose port sand has been illegally unloaded from Saharawi territory. Among other purposes, it has been used to remodel Tauro, a beach in the south of the island. In the video, the sand is pointed out by leaving it out of frame, showing moments of leisure on a beach that could be any other beach, but that keeps being that beach. These visual fragments of rest contrast with the images of a mechanized process edited without beginning or end.
Exposición individual en / Solo exhibition at Centro de Arte La Regenta (Las Palmas de Gran Canaria)