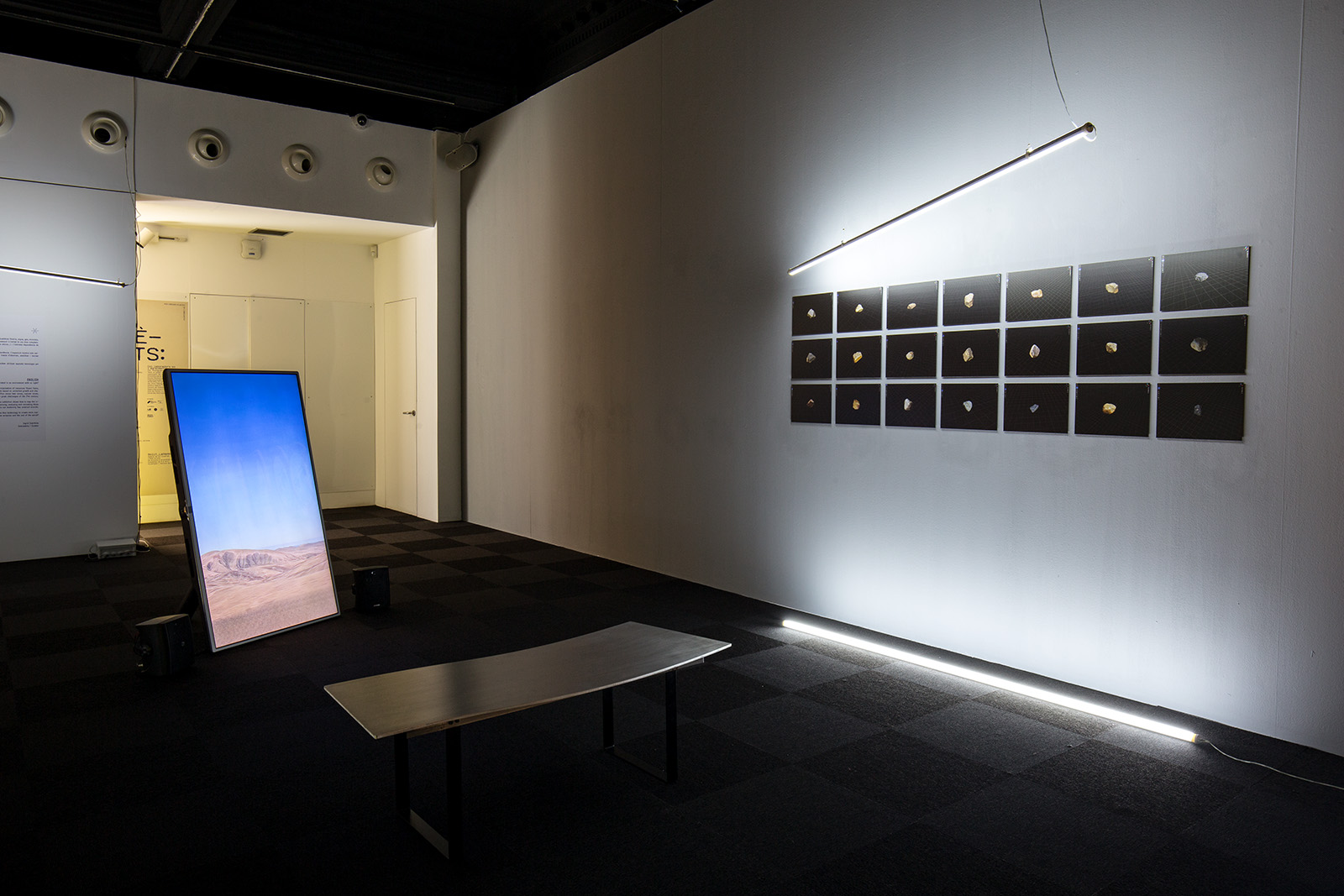 DESDE LA LATENCIA
2023

Vídeo monocanal (22'), 21 impresiones sobre aluminio y banco de acero y aluminio.
Desde 2017, varios centros de investigación e instituciones han estudiado la presencia de minerales y tierras raras en las costas y la superficie de las Islas Canarias. Un área de interés es el complejo basal de Fuerteventura, donde se han localizado tierras raras en más de 10kg por tonelada (los mayores yacimientos, en Mongolia, son de 50-60kg por tonelada). Las tierras raras se encuentran en depósitos minerales mezclados con otros elementos y son estratégicas en la industria electrónica. El proyecto se concreta en un vídeo filmado en esta potencial zona explotable de Fuerteventura. Junto a las imágenes, una voz lee un supuesto informe de impacto ambiental acompañada por el sonido electromagnético de la propia cámara que está grabando el vídeo. El texto se inspira en informes reales de sitios mineros, pero en este caso, se borran las referencia geográficas concretas. El vídeo está acompañado por un banco de aluminio a medida y una serie de impresiones sobre aluminio que muestran imágenes de piedras escaneadas en 3D in situ.


Single-channel video (22'), 21 prints on aluminium, steel and aluminium bench.
Since 2017, several research centres and institutions have studied the presence of minerals and rare earths on the coasts and surface of the Canary Islands. One area of interest is the basal complex of Fuerteventura, where rare earths have been found at more than 10kg per tonne (the largest deposits, in Mongolia, are 50-60kg per tonne). Rare earths are part of mineral deposits mixed with other elements and are strategic in the electronics industry. The project is made concrete in a video filmed in this potentially exploitable area of Fuerteventura. Alongside the images, a voice reads a supposedly environmental impact report accompanied by the electromagnetic sound of the camera that is recording the video. The text is inspired by real mining site studies, but in this case, the specific geographical references are deleted. The video is accompanied by a custom-made aluminium bench and a series of aluminium prints showing images of stones scanned in 3D in situ.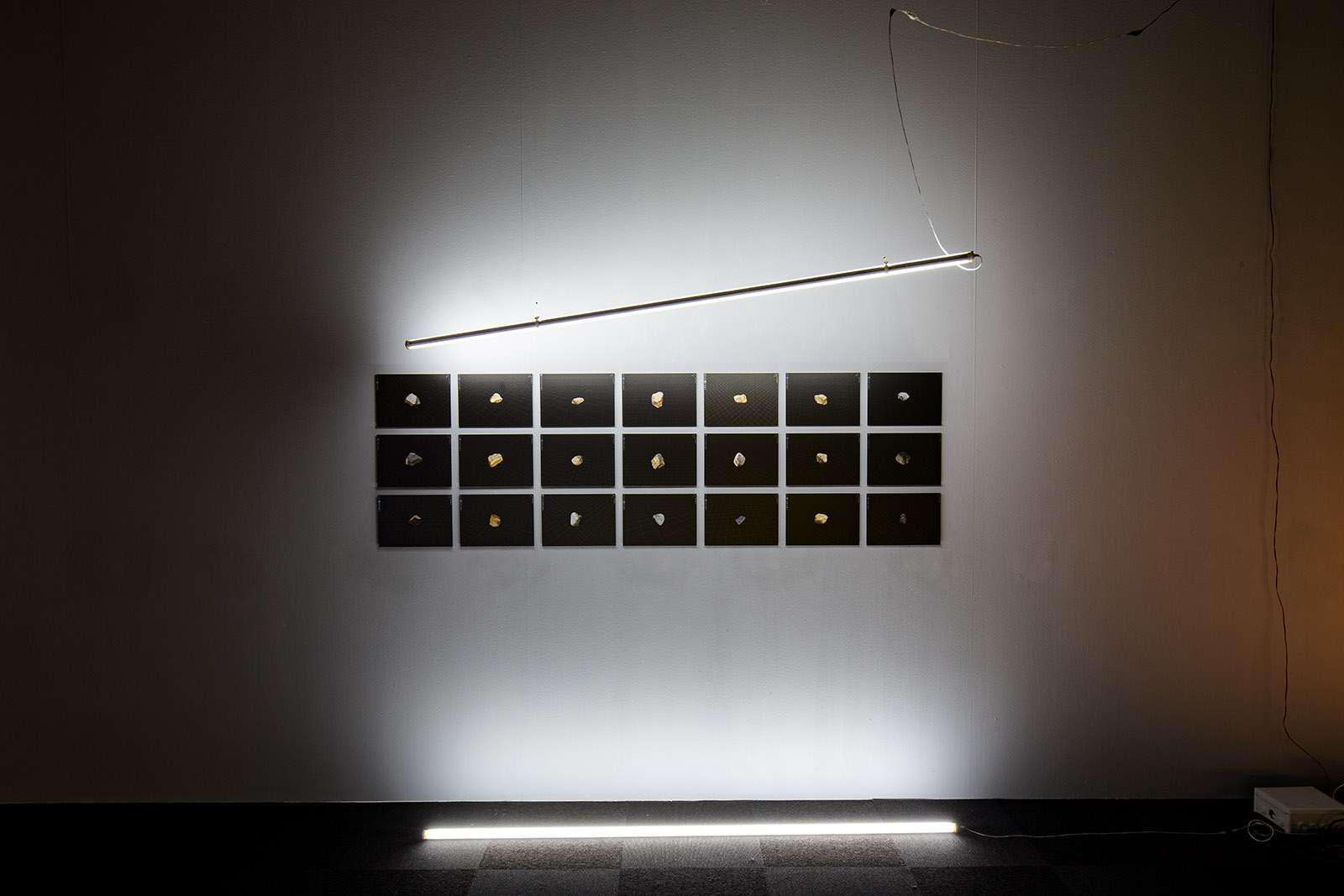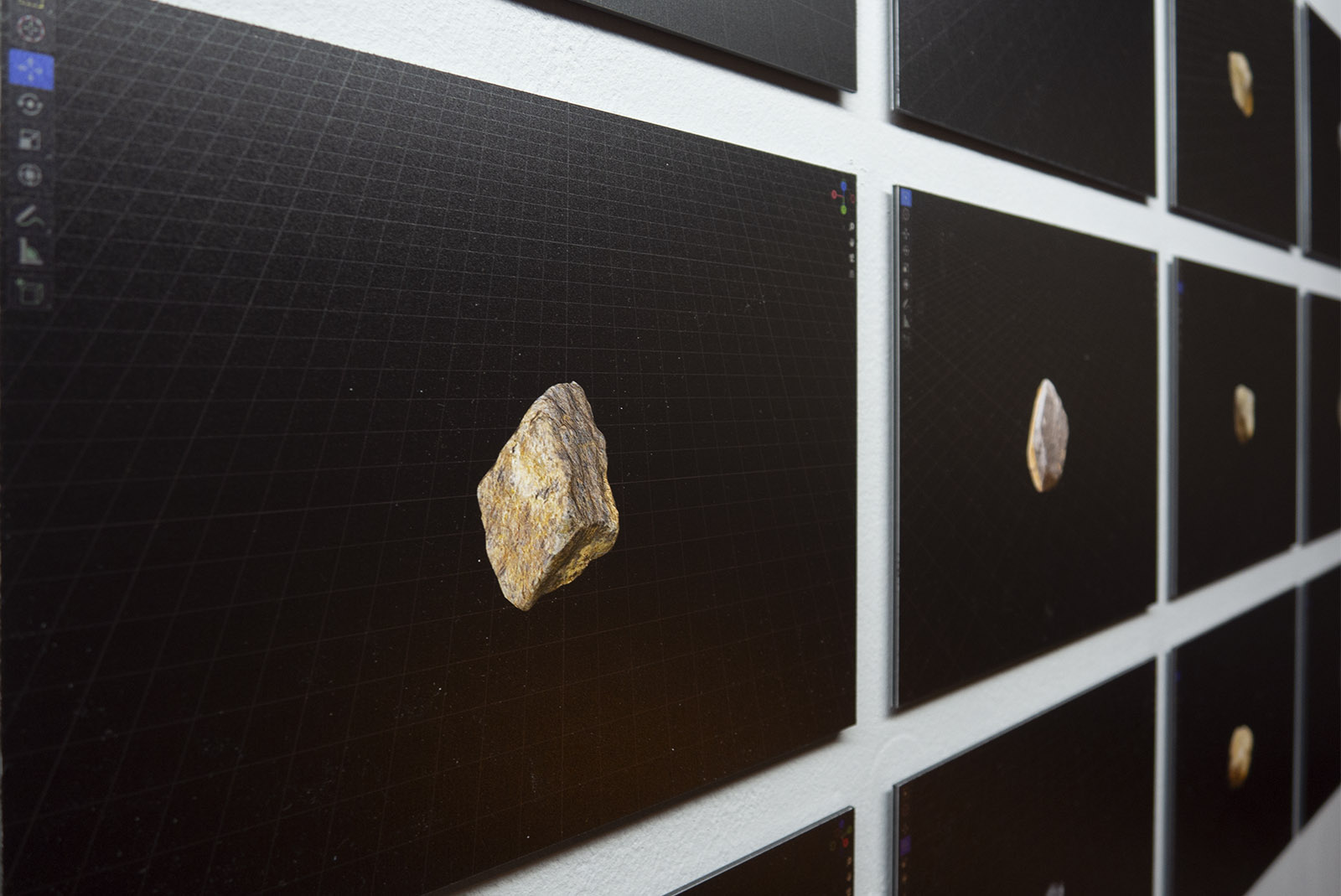 Exposición colectiva /
Group exhibition «Fer créixer plantes a l'obscuritat». Bòlit Centre d'Art Contemporani (Girona)