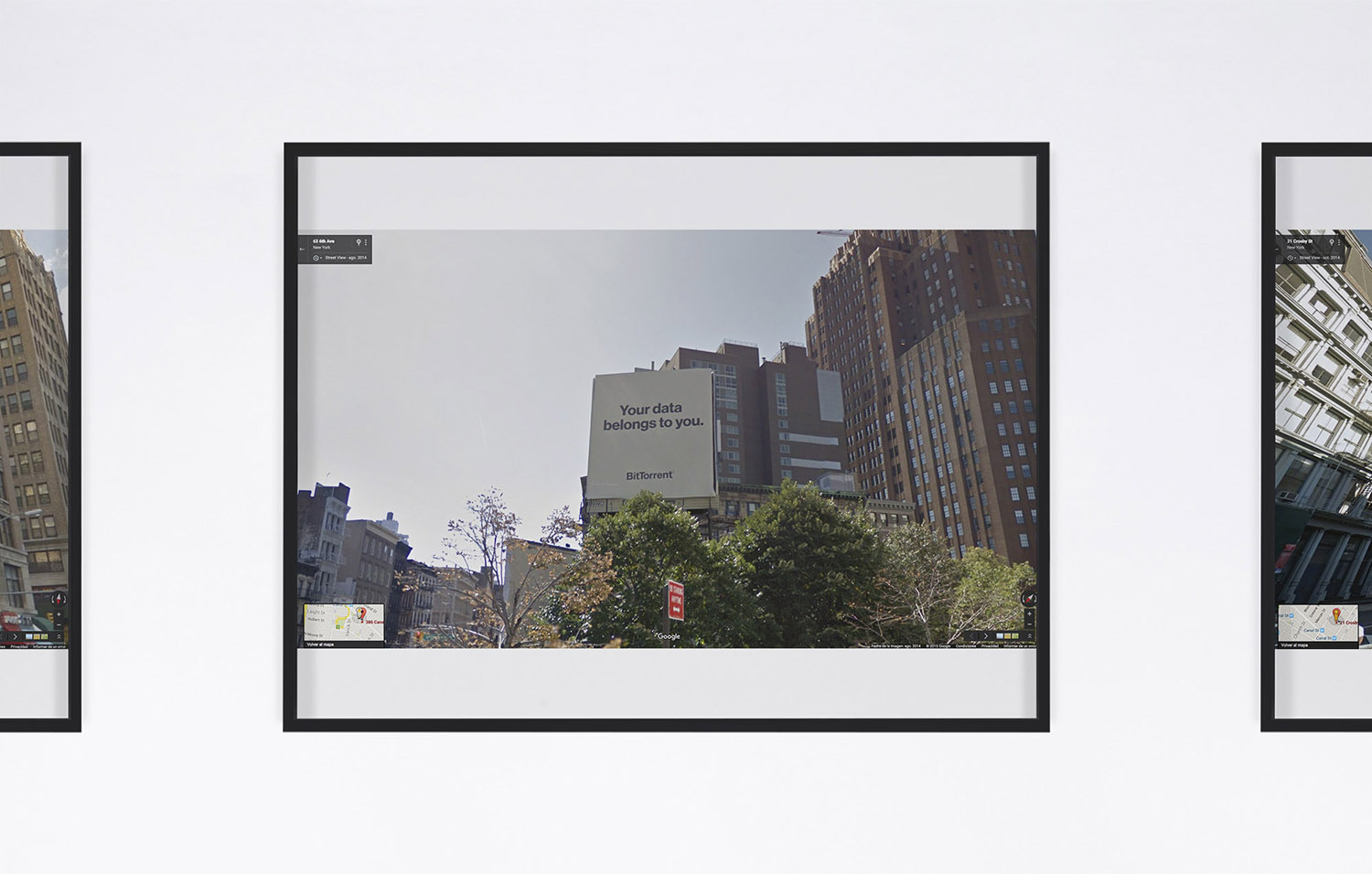 High divers and surfers
2015-2016

5 impresiones digitales y vídeo monocanal (23')
Thomas Pynchon publica en 2013 "Al límite", ficción detectivesca ambientada en Silicon Alley, zona de start-ups tecnológicas originalmente situada en Flatiron District, SoHo y Tribeca (Nueva York). El otro escenario principal del libro es la Deep Web, área presumiblemente grande de contenidos de Internet no indexados en motores de búsqueda convencionales. Navegar en ella es dificultoso: las webs se caen, cambian de dirección o están inactivas temporalmente. Como los surfistas, navegar en la Deep Web es entrar en una ola ya existente. El trabajo explora relaciones entre estas arquitecturas virtuales y reales. Está compuesto por 5 capturas de Google Street View en Silicon Alley que muestran anuncios para promover la conexión a Internet y otros servicios relacionados con la Red. Junto a las imágenes, un vídeo recorre la Deep Web a partir de la experiencia de sus usuarios. Testimonios en foros ocultos que cuentan qué páginas visitan son usados como indicadores para esta ruta en la Deep Web.
5 digital prints and single-channel video (23')
Thomas Pynchon published "Bleeding edge" in 2013, a detective story set in Silicon Alley, a high-tech area originally located in the Flatiron District, SoHo and Tribeca (NYC). The other main scenario of the fiction is the Deep Web, a presumably big zone of the Internet. The term refers to the content of the World Wide Web that is not indexed on conventional search engines. Navigating within it becomes difficult: many websites crash, modify their addresses or are temporarily inactive. Like the surfers, browsing the Deep Web means entering into an existing wave. The work aims to approach relations between these virtual and real architectures and includes a compilation of Google Street View screenshots around Silicon Alley. The images show advertisements to promote a better Internet connection and other Network-related services. Along with the photos, a video explores the Deep Web based on the experience of their users. Testimonials on hidden forums explaining which pages they visit have been used as indicators for a route on the Deep Web. .
Producido por / Produced by Nieuwe Vide (Haarlem, Netherlands) for «In search of Thomas Pynchon».